Full Performance Criteria
Electronic faucets on hand sinks serve many handwashing functions from water-saving to life-saving. Well known for their no-touch hygiene factor, many other advantages are often overlooked. Poorly engineered versions have proven to be unreliable and not worth their price. Cheap offshore options used in many public restrooms taint the image of the category.
Handwasing For Life made its Best-In-Class choice based on the full performance spectrum, supported by proven customer service. The HyTronic series by Chicago Faucets delivers all the benefits, starting with outstanding reliability. One of its least referenced advantages of electronic faucets is perhaps their greatest value – the positive behavioral impact on handwashing compliance. Busy staff appreciate the time-saving functionality. The operator loves the water saving, enough to often fund the faucet costs in the first year. The ownership likes the brand protection offered by increased handwashing.
A Tradition Of Quality & Reliability
Chicago Faucets has been America's leading manufacturer of commercial faucets for over 110 years. With manufacturing, research, and development facilities located solely in the United States, you can count on products that are made with an unwavering commitment to quality backed by know-how and determination that are uniquely American. The foundry, manufacturing, assembly, and distribution facilities are located within a 350-mile radius of their corporate office. This provides unparalleled control of product quality and an ability to quickly deliver products to any location in the United States.
Our research indicates that Chicago Faucets makes the most dependable electronic faucets on the market, worldwide. State-of-the-art electronics are surrounded with heavy-duty, solid brass for unsurpassed performance and durability. Whether your goal is better hygiene, enhanced compliance, water conservation or style, HyTronic delivers.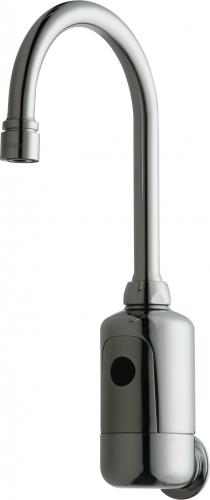 HyTronic® Series
Above-deck design. All electronics are housed above the deck for easy installation and maintenance.
Styles for any application. A choice of 6 faucet styles, 3 power options, and 3 mixing options to meet any application.
Advanced electronics. With optional Commander® handheld programming unit, access additional operating modes, troubleshoot, and monitor usage from the palm of your hand.
Unsurpassed dependability. Tested to over 4 million faultless operations.