Loss of hot water handwashing permanently closes this restaurant location.
Background:
Handwashing For Life was contacted to confirm preliminary findings of a third-party audit that reported poor handwashing.
Action:
Frequency monitoring was chosen as the tool to secure actionable data. Handsoap dispensers were equipped with mechanical counters, programmed to allow multiple dispenses. Four comparable stores within the chain were selected in the Chicago area. A project supervisor was assigned within each unit.
Headquarters' Quality Assurance, had set a standard of one Hand Wash per employee hour, 1 HW/EH.
The goals of the study were twofold;
First, to check on current compliance levels, and
Second, to move the standard to 2 HW/EH.
Handwashing For Life's MyWIN/OurWIN protocol was used to analyze each job and determine a safe-level standard for handwashing frequency. ProGrade was used to introduce a measurement of handwash quality to be added to their training package along with a video to reinforce the "WHY" of frequent and thorough handwashing.
The study was conducted over an 11-month period with this chart summarizing the results: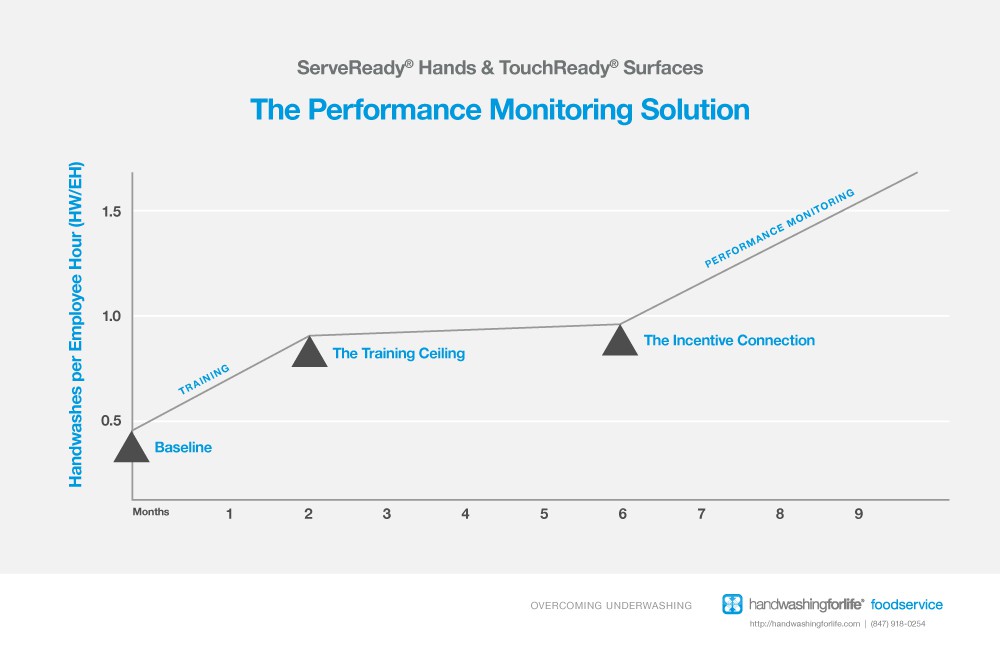 Before the chain could execute a national solution, Casual Lee's experienced a costly outbreak when a slow response to a midday breakdown of their hot water boiler. The busy restaurant was kept open and poor handwashing was cited as the likely cause.
Later that case study was the source of a Mock Trial presented by Handwashing For Life and MarlerClark lawyers. The Jury was comprised of a 12 member "who's who" list chain food safety leaders.
---
[Note: Casual Lee's is a real member of a national casual dining chain under an assumed name to protect the brand.]
Taking Charge
Today's success and the path to continuous improvement demand data.
Numbers talk. Numbers motivate. Numbers change behaviors and drive safe standards.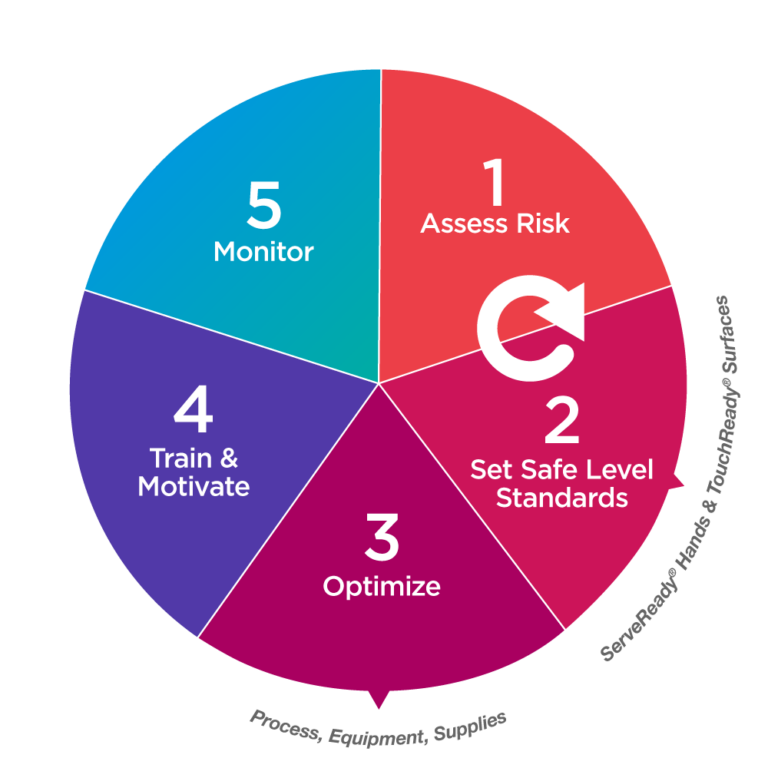 5-Step Process
The chain of cleanliness risk factors is led by poor handwashing. It is the #1 cited element in outbreak investigations. The risk of the unwashed hand has largely gone unaddressed because of the lack of standards and meaningful measurement tools.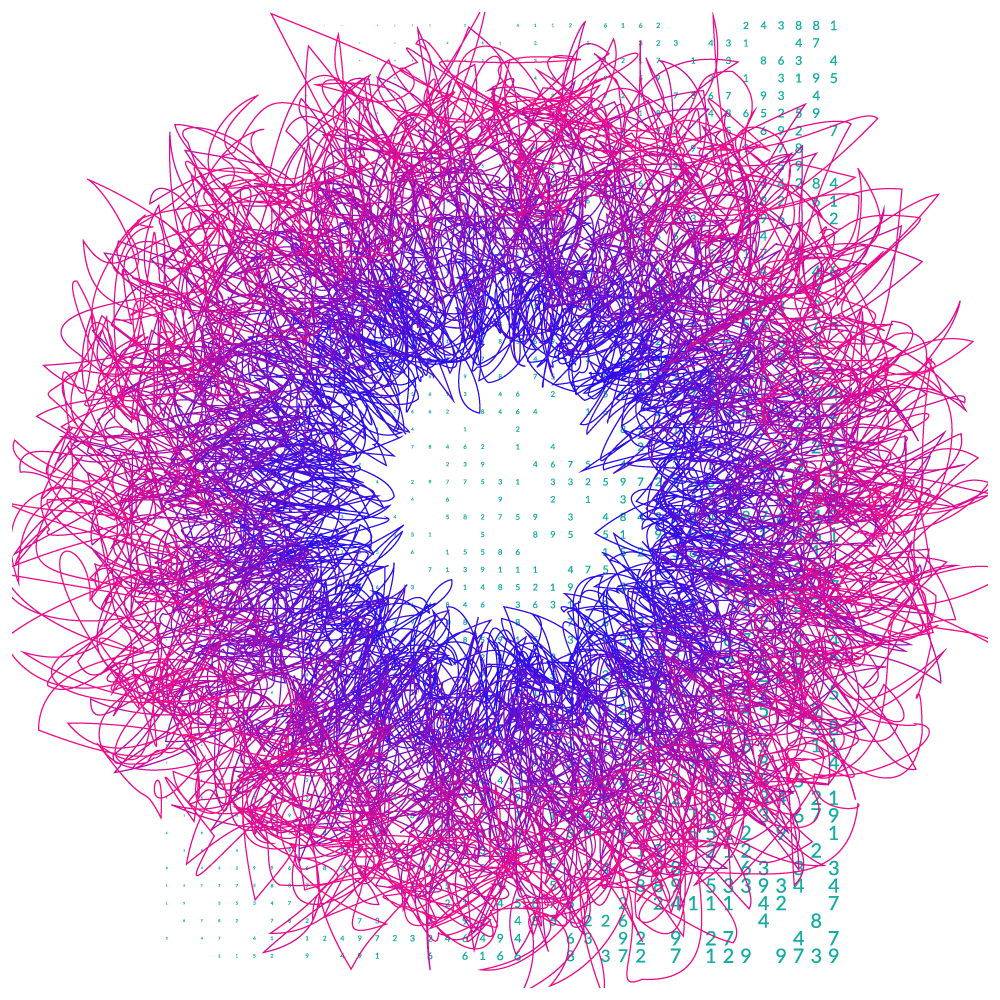 Monitoring Tech Changes Everything
Verified clean hands, ServeReady® Hands, protect brands, and are emerging as a customer-valued reason to return – a new corporate asset.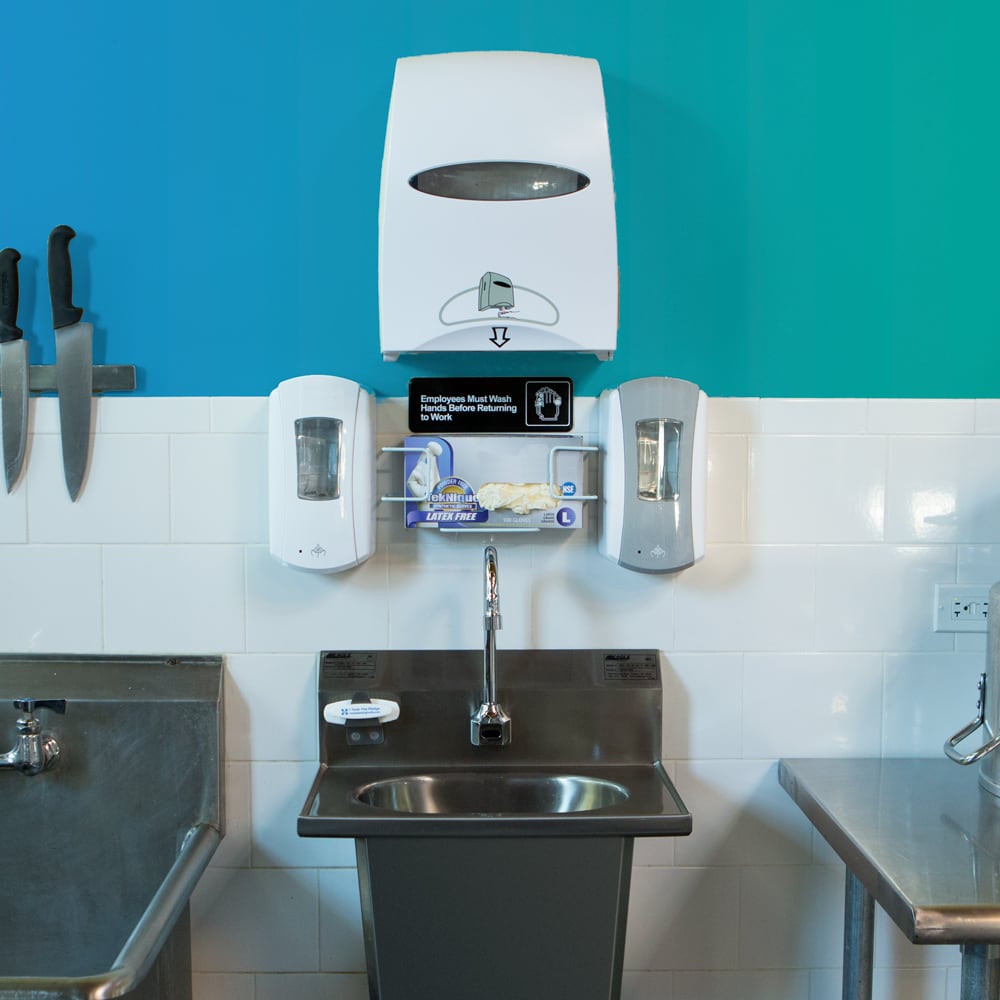 HFL5000 Handwash Station
Integrated Handwashing System with MICROGARD® antibacterial coated 304 stainless steel with deep- draw, water-saving, splash-resistant sink bowl. Removable trash container. Convenient hook for hygienic nailbrush. Ultra-reliable sensor faucet with a self- generating power system. Touchless paper towel dispenser, soap & sanitizer dispensers with ports for multiple electronic handwash monitoring systems, and two glove racks.