Policy Compliance Reality Raises Risk Rating
Background:
This high-end restaurant chain sought more control over handwashing as they suspected breaches in policy compliance. A British company was called in to set up a test in a representative casual dining location. The system uses a video imaging technology. The supplier is a leader in US supermarket aisle traffic tracking. Their algorithms assure the short checkout lines.
Key Objectives Precede System Choice
Here is a list of 5 questions from the technology company to help them tailor an effective and sustainable system:
What behavior do they want from their staff in specific terms i.e. when they should wash their hands etc.?

How do they communicate this to their staff now and if they don't do this clearly already then it may be a part of the problem?

Where they think it is going wrong at present – do they know if they have a problem or just worried that they can't tell?

How do they try to monitor staff compliance – can they watch it or is it too hard to see because of the busy environment?
If so, they may be dependent on staff professionalism and understanding in which case supporting them in promoting that may be the right focus rather than trying to measure everything in every location. If we can improve behavior in some locations, then we will likely affect behavior in all locations as humans are creatures of habit.

What is the effect of failures to comply with their business when it goes wrong?
If there isn't really an effect and they seem to be getting away with it (i.e. no failed inspections, fines or poisoned customers) but they are just a bit worried about contaminating a salad one day and making someone ill it may be hard to attach a business justification to that.
Action:
Ceiling video cameras were discretely installed along with soap dispenser communication modules at their four handsinks, three of which were in view of the dining public with one in the back-of-house, just outside the supervisor's office. A monitor was fixed above this hand hygiene station to provide employees with feedback on their performance. The dashboard information provided real numbers and was a very effective nudge to the staff, removing the nagging factor of constant supervisor reminders.
The system did not require RFID badges. Reports were by team with time stamps and results for each handsink station.
Data was collected for the day, processed overnight by the UK engineering office with a report ready for the next morning's startup and daily staff meeting. The electronics and the overall protocol worked perfectly. Reporting in real-time became a technical possibility for future consideration.
Findings:
Handwash frequency was lower than expected. The policy for bartender handwashing was four handwashes per employee hour (HW/EH). The reality was far less than 1 HW/EH.
Other handwash stations reported much better results but still less than 1 HW/EH. The goal was in the 2-3 HW/EH range.
The test was very successful in helping management assess the handwashing risk and understand the value of data. It also facilitated writing better specifications for a potential corporate wide handwash monitoring system.
The blurred personal video images protect individual identities. Time spent at the handsink can be measured, giving an indication of wash time in seconds.
The British supplier also learned a lot about the market readiness in the USA. They have since withdrawn from the foodservice market and the technology is no longer available to conduct this type of research.
Deliverables:
A baseline for both handwashing frequency and quality, a foundation for continuous improvement and measurement of training effectiveness.
An ongoing path for actual frequency numbers (which can be normalized to monitor Handwashes Per Employee Hour [HW/EH])
An indication of handwashing quality (via the amount of time spent at the handsink)
A confirmation that soap was used.
Feedback screen/dashboard to help motivate employees to achieve specified compliance levels in near-real-time (a maximum of a one-hour delay) Other reporting options would be available, including the possibility of monitoring by regional or headquarter offices.
This restaurant converted handwashing to a controlled repeatable process with readily audited compliance reporting. Liability insurance rate reduction will be sought.
---
Note:
Objective impersonal monitoring of handwashing behaviors produces a report card on current process control. It provides a candid look at today and generates a platform for continuous improvement. Handwashing For Life® strongly recommends this type of onsite baseline research to assess the risk of unwashed hands. Testing within the culture answers the question "If we have handwash frequency numbers, what do we do with them?" The answer to that will decide the success and sustainability of the initiative or provide decision support for added liability insurance. That question should be answered before specifying the technology.
Taking Charge
Today's success and the path to continuous improvement demand data.
Numbers talk. Numbers motivate. Numbers change behaviors and drive safe standards.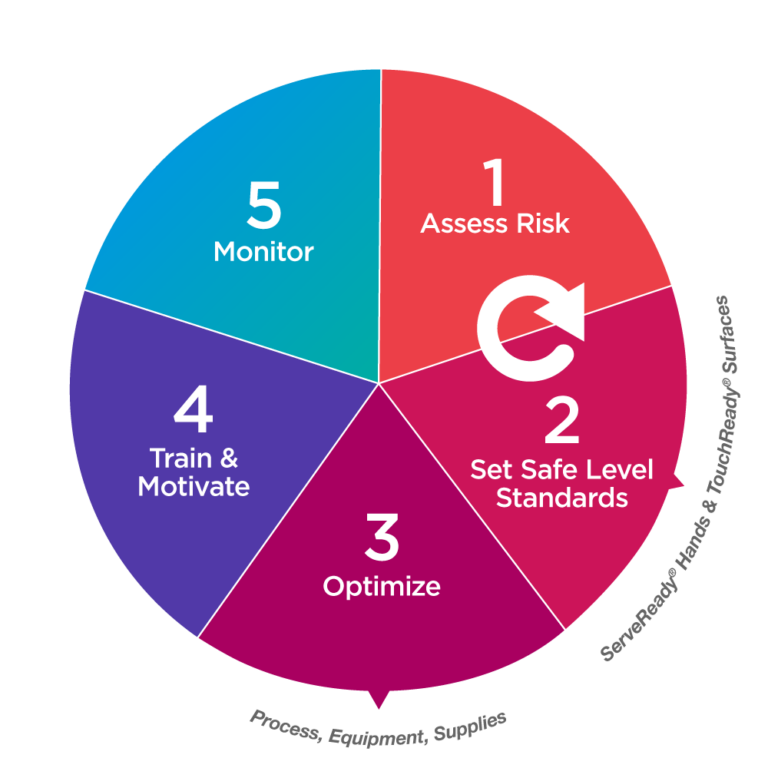 5-Step Process
The chain of cleanliness risk factors is led by poor handwashing. It is the #1 cited element in outbreak investigations. The risk of the unwashed hand has largely gone unaddressed because of the lack of standards and meaningful measurement tools.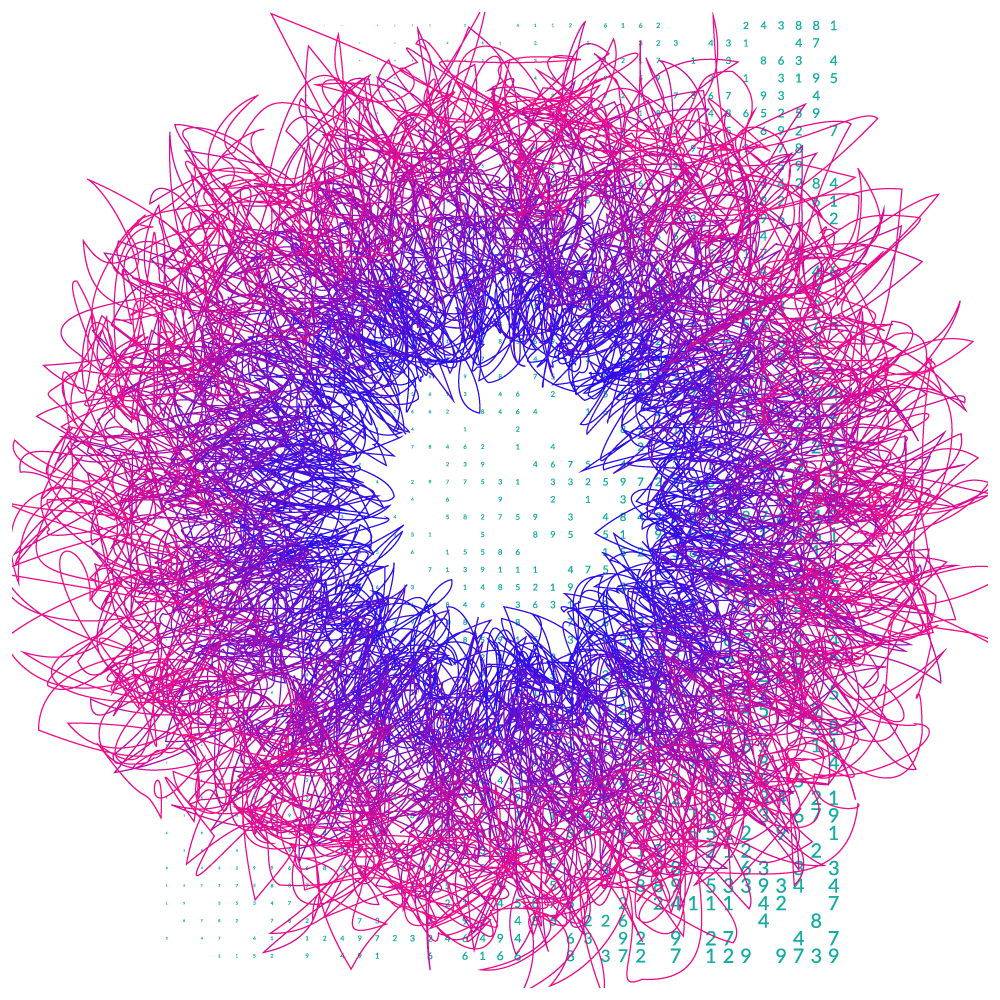 Monitoring Tech Changes Everything
Verified clean hands, ServeReady® Hands, protect brands, and are emerging as a customer-valued reason to return – a new corporate asset.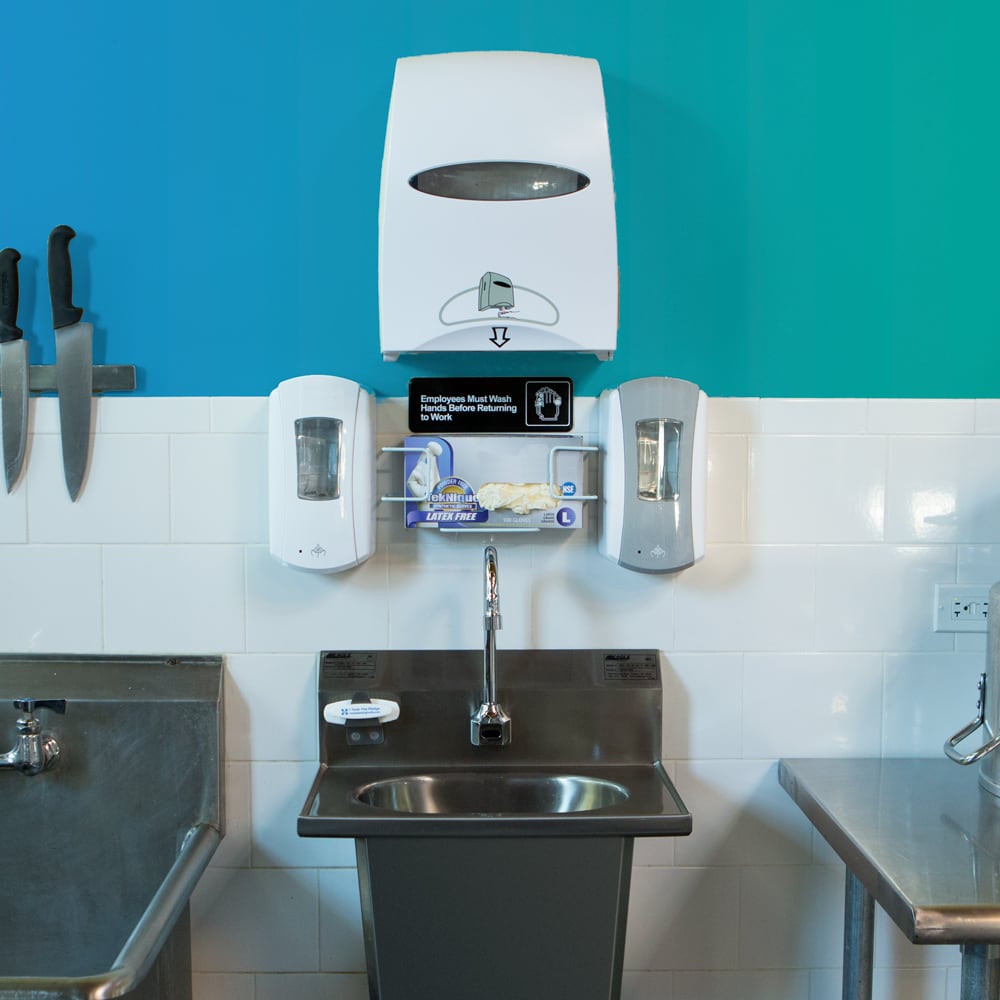 HFL5000 Handwash Station
Integrated Handwashing System with MICROGARD® antibacterial coated 304 stainless steel with deep- draw, water-saving, splash-resistant sink bowl. Removable trash container. Convenient hook for hygienic nailbrush. Ultra-reliable sensor faucet with a self- generating power system. Touchless paper towel dispenser, soap & sanitizer dispensers with ports for multiple electronic handwash monitoring systems, and two glove racks.