Dramatic Improvements Available in Handwashing Compliance
The infamy of poor handwashing compliance is shared by the healthcare and foodservice industries. Both are estimated to be south of 50% of their own policy standards. National Handwashing Awareness Week, December 6-12, was created for the public but for 2020/2021 has a special importance for caregivers, food workers and their leaders.
Awareness of the need for good hand hygiene has been exponentially raised by the Coronavirus Pandemic. But temporary gains in staff handwashing in both healthcare and foodservice have already returned to the pre-covid rates.
A few operators have institutionalized their gains by investing in Electronic Hand Wash Monitoring (EHWM). These technologies utilize timely performance statistics to engage the staff and motivate their better angels. Actual compliance data also corrects a C-suite blind spot. These reports are the first to reach them. They now can track trends and manage on the basis of acceptable risk.
The best Healthcare example:
This research is a composite study of multiple sites, provided by BioVigil®, based in Ann Arbor, Michigan. It shows that EHWM not only raises handwashing rates, it more importantly registers a corresponding drop in infections, HAIs.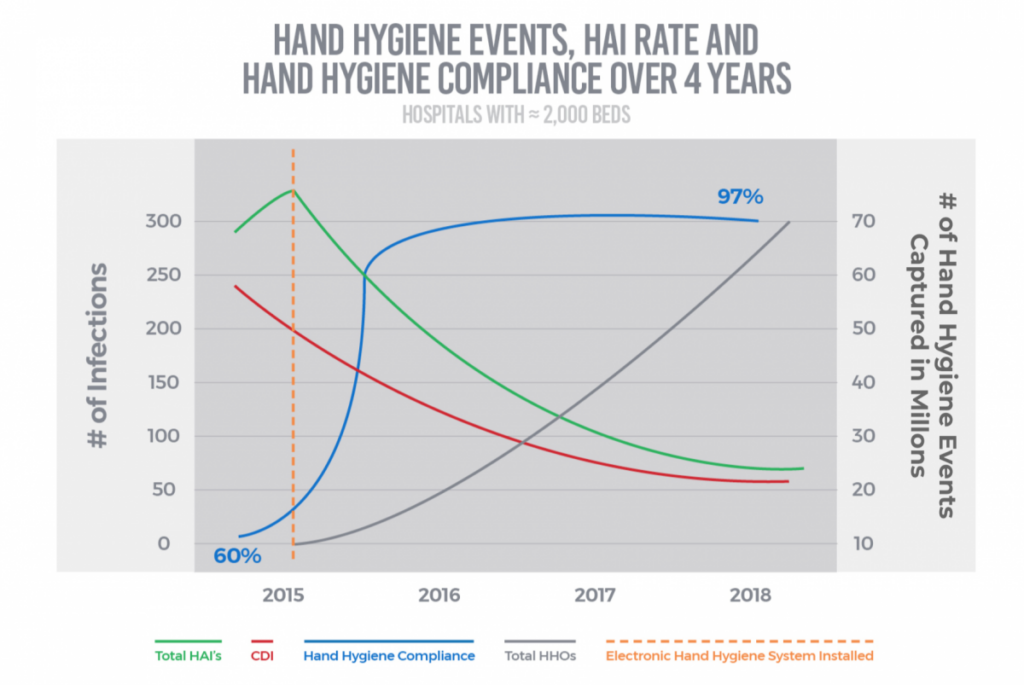 The best Foodservice example:
The Crushed Red casual dining concept uses voice recognition to credit handwashing performance to the individual worker. This is the first system that doesn't require the use of a separate ID badge to track handwashing behaviors beyond team results, down to the individual level.
Without the installation of this technology provided by the St. Louis based Clean Hands Company, staff compliance was estimated to be about the industry average of 30-50%. System installation, followed by a very brief training/motivational session, quickly moves compliance to 90+%.
Staff feedback monitors can be added to align with HACCP, providing real-time reporting for self-corrective action. Worker accountability is key and verified data becomes a mark of staff professionalism.