How three new standards, a new practice and a new product gang up on norovirus.
Las Vegas, the world capital of risk & reward, served as a metaphor for Norovirus Summit II where food safety executives and researchers shared the news on norovirus and the risks of poor hand hygiene. The event was created by Handwashing For Life as a combined technical conference and implementation workshop. It followed in the spirit of the original Norovirus Summit held in 2004, following major norovirus outbreaks in cruise ships and hotel-casinos.

Over one hundred professionals gathered at the Venetian Palazzo Congress Center to listen, contribute and get started applying the hand hygiene learning to raise standards and further reduce their risk of outbreaks. Attendees represented more than 25 casinos, 12 major restaurants, a cruise line, the Clark County School District and a group of health inspectors from Las Vegas and the State of Nevada.
Pete Boyd, VP of Food & Beverage at the Venetian/Palazzo, welcomed all and thanked the group – the Southern Nevada Health District, Emory University, BioScience Laboratories, the Venetian's risk and food safety professionals, Prepcheck Food Safety and Handwashing For Life – for working together in conducting the on-site research over the past year and in assembling this Norovirus Summit II event. Sharing the results with other Las Vegas leaders was the goal of this event. Norovirus continues as the nation's leading cause of foodborne outbreaks.
Three New Standards
Jim Mann, Executive Director of the Handwashing For Life Institute, opened the charge on norovirus with a challenge to operators to "Identify and attack your unnecessary risk" by setting and monitoring hand hygiene standards. While the risk is never zero it is often higher than it need be and can be reduced by simply implementing three hand hygiene standards in a sustainable system with frequent tracking and reporting. "Documentation is the foundation and motivation for sustainability."
Standard 1 for the ServeReady™ Hands (for Handwashing, with water & for Hand Cleansing, without water):
Set your Safe Level for quality. This is a proficiency grading of skill, ProGrade. It is the quality measurement for the ServeReady Hands – the efficacy standard for effective handwashing and hand cleansing. It serves as a personal and visual standard for performance. Visualize & Personalize are two key concepts in changing hand hygiene behaviors.
Standard 2:
Set your Safe Level for frequency. This is your estimate of handwashing and hand cleansing frequency it takes for an individual to have ServeReady™ hands whenever and wherever there is direct or indirect contact with ready-to-eat food and drink. Individual standards are set in building the Our ® Corporation's Signol™ product).">WIN factor (Wash Index Number) – the total team handwashes for a shift, the week or the month.
Standard 3:
Set your Safe Levels for TouchReady™ Surfaces, those surfaces that are most likely to contaminate the hands. Keep clean hands clean by the numbers, using ATP for employee training and rapid verification of cleaning protocols and their frequency.
A New Practice
For those areas where water is scarce or non-existent, SaniTwice® was introduced at each table via a live trial. SaniTwice is a simple convenient intervention, not to replace handwashing, but to add a cleansing step to the normal use of a hand sanitizer where soils are light and water is not readily available.
Robert McCormack, Principal Study Director at BioScience Laboratories, reported on the efficacy of the SaniTwice intervention in the laboratory. Purell VF481 was included in this test as it was chosen by the Venetian Casino Hotel in their trial for catered events at portable bars. Robert McCormack's SaniTwice Presentation (PDF).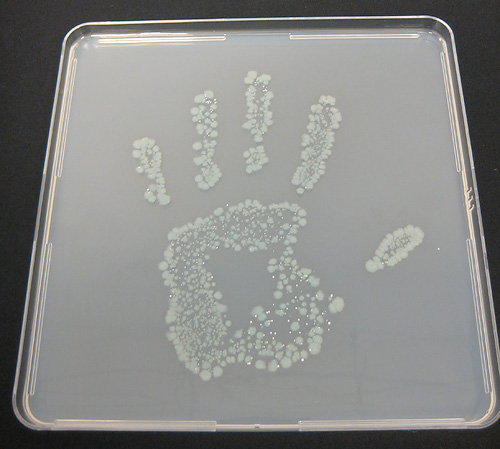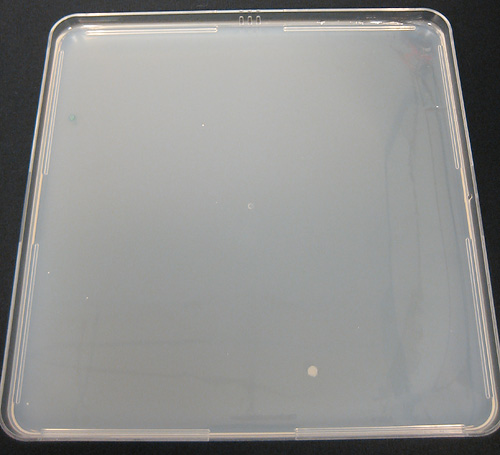 This graphic summary of the laboratory findings shows the actual E. coli contaminated hand and that same hand after the SaniTwice regimen.
A New Product
Dr. Christine Moe, a world authority on norovirus from Emory University and winner of the NSF Research Leadership Award last year, presented her findings in a captivating review. She highlighted the length of time human norovirus can live on inanimate surfaces and the differences in commercial products in their ability to kill the human norovirus. Previous studies have been limited to surrogates which are more easily killed than the human norovirus. Dr. Moe's research shows that some commercial brands are almost ineffective by comparison and confirmed the Venetian's choice of a highly effective synergized formulation which is Food Code compliant because of its GRAS list ingredients (FDA/CFSAN designation for Generally Recognized As Safe).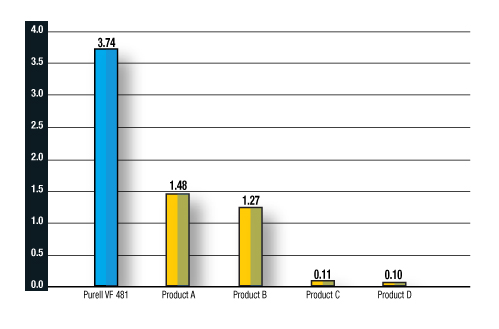 The Venetian's risk team was an important stakeholder in product selection, well aware that hotel-casino patrons are a pathogenic source, particularly for norovirus. This fecal-hand-oral route of transmission combined with long surface-survival periods and its asymptomatic profile (contagious but without symptoms) add up to increased risk at property intersections with the public.
---