A unique combination kills Coronavirus, Norovirus, and Cold/Flu Viruses
Culture kudos to Panera! They care enough about their team and those served to do their best-practice homework and put it into action. Their implementation of this public service demonstrates an understanding that formulation, dispenser, and location are all needed to stimulate actual use. Frequent use creates a barrier to incoming viruses and serves up an ambiance of wellness and relaxation.
The COVID-19 winter is now joined by Norovirus, the flu, and the common cold. This is the first Norovirus effective product available in a touch-free format. Expect to see this variation on cruise ships and in casinos, two segments that are quick to adopt innovations that protect their staff, guests, and the business itself.
Many new hand sanitizers joined the COVID-19 war, making it appear that all it takes is alcohol. Panera's choice of Purell VF Plus was based first on its safety and kindness to skin. It is less drying to the skin than a soap-water wash. Then was North Carolina State University's efficacy data for Norovirus, the toughest of the quartet of virus targets.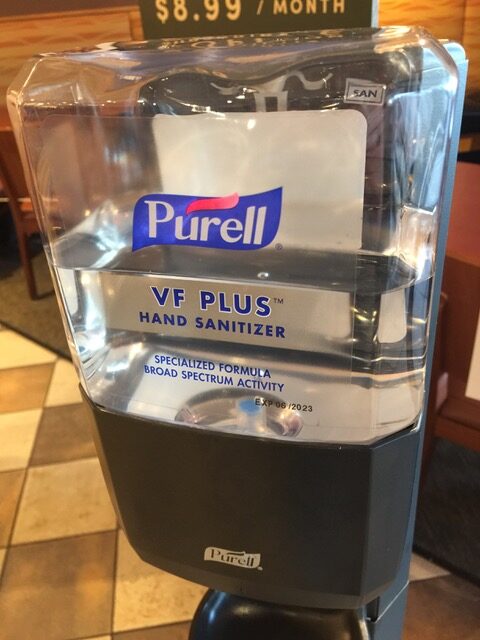 Their choice was facilitated by the availability of a patented touch-free dispenser that has a unique power system which doesn't require separate battery changes as the power source is in each cartridge. The visibility of the container fosters changing without ever being empty. From the virus's point of view, this is a "perfect storm."
Panera then shows its safety savvy and care for the customer as they place the unit directly in the path of the customer, beckoning for use before their order is placed. It is located to get used.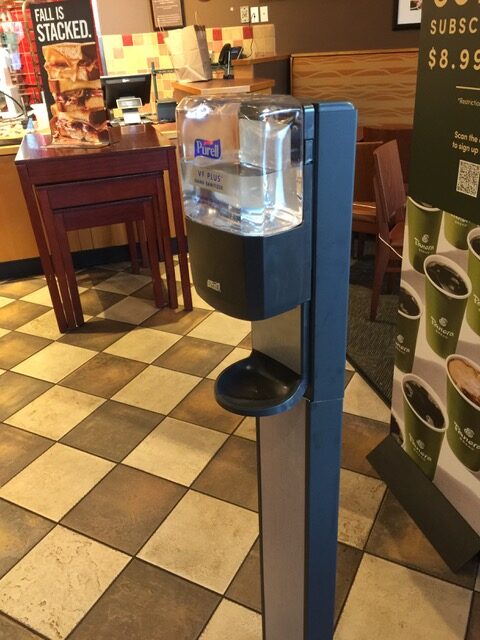 Source: Efficacy of alcohol‐based hand sanitizers against human norovirus using RNase‐RT‐qPCR with validation by human intestinal enteroid replication – Escudero‐Abarca – 2020 – Letters in Applied Microbiology – Wiley Online Library
Additional info: