Handwashing For Life Olympics: Life-Saving Learning in the Spirit of Sport
Educate, Motivate & Train
Successful foodservice depends on professionalism throughout the kitchen, service areas and restrooms. It can be and should be a rewarding career from the entry-level worker, to the local manager and owners.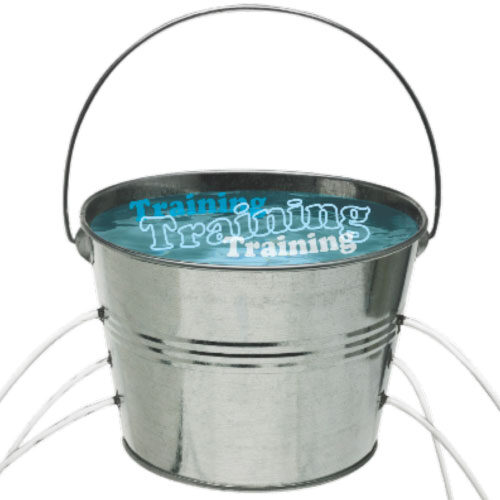 A lack of employee motivation stifles the needed enthusiasm for success and wastes training and education investments. If no one takes the time to make the job important then there is no component task that is important. Where tasks like handwashing are trivialized, don't expect training to change staff behaviors. Consider the value of personalized and visualized standards in converting a slacker to a motivated professional.
Standards & Expectations
As the positive effects of an average training session wear off, more of the same training is poured into this "leaky bucket". This training "top-up" is without any lasting impact on handwash behaviors. Training has maxed out. It is largely a waste in the absence of agreed standards and expectations.
Rewarding achievement is a key to maintaining positive behaviors and is virtually impossible without standards. Step Two of the HandsOn System can help plug this hole and set the stage for effective training and enduring behavior change. Measuring both handwashing Quality and Frequency are important. (See Step Five for more on Handwashing Frequency Training and Monitoring.)
ServeReady® ProGrade Scoresheet
This scoresheet is both a training tool as well as a vehicle to periodically monitor the quality of the employee's handwashing skills. Operators are encouraged to retain the latest results in personnel files, accentuating the importance of this performance standard.
ProGrade first demonstrates current handwashing effectiveness and highlights the areas that need addressing. Apply GlitterBug® tracer to hands as if it were a hand lotion, assuring good coverage. Wash off and check with a UV source to visually score the handwash effectiveness. "Congratulations in meeting our standard of 90% removal."
For proper handwashing techniques, The Core Handwash in the HandsOn™ System demonstrates the proper way to achieve this (the hand-scrubbing process should take 15-20 seconds to complete. Extend scrub time, use a nailbrush or repeat the process for those extra heavy soiling situations). Once clean, apply hand sanitizer for added customer protection. Don gloves where appropriate.
Videos & Posters
To support your training efforts, HandwashingforLife® offers training videos and reminder posters:
The Why, When & How Video is a fast-paced, language-free video 5 minutes in length with 3 modules developed for training the why, when and how of hand washing. An excellent tool for motivating good hand hygiene behavior with existing and new employees.
The Team Rally™ Video is all action – action that embeds the learning and changes hand hygiene behaviors across the organization.
Download Posters » Posters don't change behavior. They can, however, be very effective as reminders for newly forming hand hygiene habits.